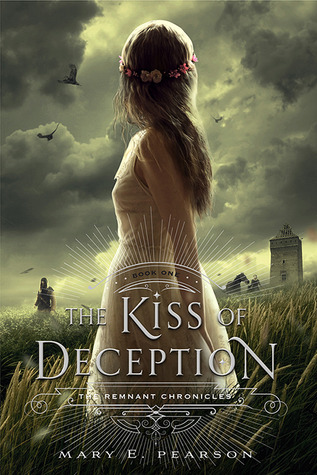 The Kiss of Deception
Mary E. Pearson
Genre(s):
Fantasy, Romance, Young adult
Published:
July 8th 2014
Pages:
489
Rating:
3 stars
"A princess must find her place in a reborn world.
She flees on her wedding day.
She steals ancient documents from the Chancellor's secret collection.
She is pursued by bounty hunters sent by her own father.
She is Princess Lia, seventeen, First Daughter of the House of Morrighan.
The Kingdom of Morrighan is steeped in tradition and the stories of a bygone world, but some traditions Lia can't abide. Like having to marry someone she's never met to secure a political alliance.
Fed up and ready for a new life, Lia flees to a distant village on the morning of her wedding. She settles in among the common folk, intrigued when two mysterious and handsome strangers arrive—and unaware that one is the jilted prince and the other an assassin sent to kill her. Deceptions swirl and Lia finds herself on the brink of unlocking perilous secrets—secrets that may unravel her world—even as she feels herself falling in love.
"
I couldn't help but feel that things started off a bit too... convenient for all the characters in The Kiss of Deception. Lia and Pauline quickly make it to Berdi's inn and aren't questioned or turned in or anything of the sort. The assassin and the prince also met extremely early on in the novel and only a few chapters after they'd each been introduced... And they meet at the same inn Lia and Pauline are now working at. Just... what are the chances of that actually happening?
However, the mystery surrounding who was the assassin and who was the prince was excellent. I really enjoyed it, and felt that every time the reader thought they had it figured out something would change. It was a nice touch and made me feel a bit closer to Lia as a character, as she didn't know who was who either. That being said, I did figure it out quite quickly.
Two slight problems I had though, were the vague mentions of the 'gift' First Daughters are supposed to have, and how heavy the romance was. I was not expecting romance going in to this, more of a mystery set in a fantasy setting. I also wanted clarification as to what the 'gift' was (as well as several other things, such as why wedding kavahs were a tradition) as I felt it was mentioned a lot but nothing ever came of it. Whether that's just setting up for the next book where all will be explained, I don't know.
Overall, I did like The Kiss of Deception. It was a light young adult fantasy, perfect for those new to the genre and who enjoy romance. Will I continue on with the series? Maybe. For me, it wasn't quite what I anticipated.