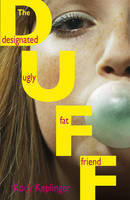 The DUFF: Designated Ugly Fat Friend
Kody Keplinger
Genre(s):
Contemporary, Romance, Young Adult
Published:
April 5th 2012
Pages:
343
Rating:
4 stars
"Seventeen-year-old Bianca Piper is cynical and loyal, and she doesn't think she's the prettiest of her friends by a long shot. She's also way too smart to fall for the charms of man-slut and slimy school hottie Wesley Rush. In fact, Bianca hates him. And when he nicknames her "the Duff," she throws her Coke in his face.
But things aren't so great at home right now, and Bianca is desperate for a distraction. She ends up kissing Wesley. Worse, she likes it. Eager for escape, Bianca throws herself into a closeted enemies-with-benefits relationship with him.
Until it all goes horribly awry. It turns out Wesley isn't such a bad listener, and his life is pretty screwed up, too. Suddenly Bianca realizes with absolute horror that she's falling for the guy she thought she hated more than anyone. And eventually, through this realization, Bianca begins to see how harmful her unhealthy way of dealing with her problems has been, and finds a way to confront them head on.
"
From even the early chapters of this book I could identify with Bianca, being a bit of a DUFF that doesn't enjoy parties myself. As a character, she was real, relatable, and well developed and I enjoyed reading about her. I think if she'd been any different I wouldn't have liked this so much.
I'll admit: the whole idea of the 'DUFF' did anger me when it was first introduced. But when I stepped back and thought about it, I realised that's good. It's an all too real concept that people follow in real like and people - especially impressionable teenage girls - should not accept it lying down. I immediately liked and respected Bianca for standing up for herself when she was first labelled as the DUFF of her friendship group. And while her behaviour and reactions to said label afterwards did make me feel sad, they also made me feel. Far too many people - myself included - feel bad about themselves thanks to comments from others, and I commend Keplinger for including and capturing that in her writing. It's very powerful.
While I'm not really a fan of romance or contemporary, I did like the relationships in this books. Both the friendly and the more romantic. I found them to be realistic, if a little frustrating at times. The characters all came across as well-rounded to me - Bianca and Casey especially. As well as that, the writing gripped me and kept me interested and I had no idea where the story was going to go, so this was a pleasantly surprising read. There were parts that made me laugh, bits that made me roll my eyes, and even a scene that I thought I was going to cry at. (Unheard of, I know; I never cry at books.)
Overall though, this was a really good contemporary. It hasn't converted me to loving the genre, but it has given me hope that there are other little gems like this out there.