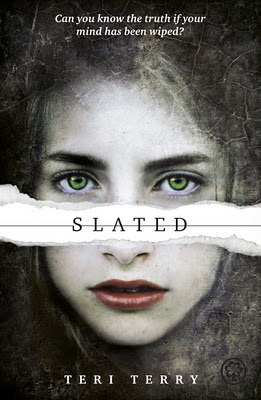 Slated
Teri Terry
Genre(s):
Dystopia, Science Fiction, Young Adult
Published:
May 3rd 2012
Pages:
448
Rating:
5 stars
"Kyla's memory has been erased,
her personality wiped blank,
her memories lost for ever.
She's been Slated.
The government claims she was a terrorist and that they are giving her a second chance - as long as she plays by their rules. But echoes of the past whisper in Kyla's mind. Someone is lying to her, and nothing is as it seems. Who can she trust in her search for the truth?
"
I'd been putting off reading Slated for almost a year before I decided to pick it up. Why? I don't know, because I really enjoyed it.
I knew straight away from the prologue that this was going to be a book that kept me wondering, and maybe even a little confused at times. I instantly started questioning things and wanting to find out more. Why was Kyla running? Who spoke to her?
My questioning continued throughout the story, where I found new thoughts and ideas were not explained as they were brought up, but instead touched upon again later in the story. On one hand I like this, as it added to the mystery for me as a reader, and I found it believable as Kyla, as a Slated and the narrator, wouldn't know or understand everything straight away and therefore be able to explain things. On the other hand, however, it annoyed me, as I like things to be laid out clearly at the start of the story. It took a while for things like the Levo to be explained and this did frustrate me, but again, it's believable, as Kyla would already know all about them an wouldn't do that annoying 'this is my Levo. It does this, this, and this' explanation that is sadly all too common in first person fiction.
I was intrigued by the world building, as well. More so in a good way than a 'huh?' way. I really enjoyed how it read as if it was set in the present, even though it was set a couple of decades in the future. It wasn't glaringly obvious that it was a futuristic/sci-fi/dystopian story from the setting, which pleased me as I'm iffy with those genres, and the characters seemed 'normal' enough to be part of our present day world.
The characters also kept me guessing. I liked how they all had different personalities and characteristics, no one felt like they were just a copy of someone else, and I kept trying to figure out their motives and reasoning for things. I really enjoyed the development as well; everyone started off as quite one dimensional but I found that that soon changed, whether that was because of Kyla's own development and narration, I don't know.
While I did find the writing to be quite simplistic, as well as choppy and jarring at times, I did - for the most part - like it. I felt that it represented Kyla's thoughts well, as she would be very confused by things and no doubt think in a choppy and jarring way.
Despite me minor complaints, I did really, really enjoy Slated. It's probably the best dystopian I've read. I can't wait to complete the trilogy.