Top 5 Wednesday is a weekly topic created by gingerreadslainey over on Youtube. There's a Goodreads group here, where you can sign up and take part each week.
This week, the topic is our the side characters we think deserve their own book series. This was quite tricky, I thought, but I managed to find five characters.
Kanin from The Blood of Eden
While I love all the characters from The Blood of Eden trilogy by Julie Kagawa, Kanin fascinated me from the beginning. I enjoyed all the tidbits of information we got about him when he shared them with Allison and I'd be really interested in finding out more. Because all the books were written from Allison's perspective, things were mainly focused on her and we didn't get many opinions or insight into the others. I'd love a prequel focused on Kanin.
A bit of an odd one, considering how I feel about John Green books, but I didn't hate Looking for Alaska. I enjoyed the mystery and open ending to this, how you were left wondering what had happened. I have my theories, and I bet everyone else who read this has their own. However, I would like a book - or maybe just a chapter or two - from Alaska's point of view to explain what really did happen to her. Sure, it would take away the mystery but I want to know for sure.
Nico from The Heroes of Olympus
I feel like Nico really started to be developed and fleshed out in this series, but I still wanted more. It took until House of Hades for things to really be explained about him, and by then there was only one more book left (which admittedly I haven't read yet). I want to know more about the son of Hades, and his sister, from before they met Percy. I want to know what he was up to when we followed Percy on his quests. I want to know more about the giant vase he was trapped in. I just want more about Nico, because I find him to be one of - if not the - most interesting characters Riordan has created.
The Baudelaire Parents from A Series of Unfortunate Events
It's been a while since I read A Series of Unfortunate Events so I'm a bit unsure as to what information about the parents was included. I know it wasn't much, and there was quite the mystery surrounding them and the fire that caused the children to become orphans, and this is what I'd like to see in a separate series. I want to know just what exactly they were up to and involved in with the V.F.D. and more about the fire. Things were all a bit vague, and I can't remember much, so a re-read is definitely in order.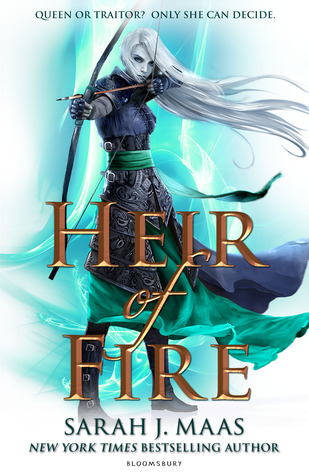 Manon from Heir of Fire
Manon was easily the most intriguing character for me whilst I was reading Heir of Fire. I loved her tough personality and how she didn't put up with any nonsense, yet still remained respectful to her coven and formed a bond with her wyvern. She was very well rounded, in my opinion, her chapters were my favourites and I was left wanting more once I'd finished the book. I'm sure she will feature again in the remaining Throne of Glass books, but there's no guarantee that she'll be a main character or have a lot of focus put on her, so I'd really like to see something purely about Manon (and the rest of the witches, because I liked them too).