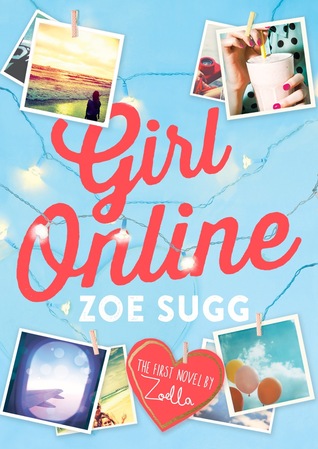 Girl Online
Zoe Sugg
Genre(s):
Contemporary, Romance, Young adult
Published:
November 25th 2014
Pages:
352
Rating:
4 stars
"
Penny has a secret.
Under the alias GirlOnline, she blogs about school dramas, boys, her mad, whirlwind family - and the panic attacks she's suffered from lately. When things go from bad to worse, her family whisks her away to New York, where she meets the gorgeous, guitar-strumming Noah. Suddenly Penny is falling in love - and capturing every moment of it on her blog.
But Noah has a secret too. One that threatens to ruin Penny's cover - and her closest friendship - forever.
"
Review written before the ghost writer scandal. While I am disappointed, my thoughts on the novel itself remain unchanged.
Zoella's debut novel, Girl Online, is the perfect christmas pick me up for when you get those winter blues.
Following Penny and her anonymous blog, Girl Online manages to tackle anxiety, friendship troubles, family, and romance in a very light hearted, easy way. While it wasn't perhaps the most complex or mind blowing in terms of writing and execution, it was fun. As I read it I was going through a bit of a rough patch mentally and was struggling to cope with a lot of things going on in my life, and this was perfect for cheering me up and just taking my mind off things for a while. Even though I thought it was a rather cliche story, it seemed to work - especially given Zoe's online personality. I thought it was very fitting for her and felt her voice throughout.
And the twist at the end! I did not see that coming; I was so wrapped up in Penny and Noah's relationship that it honestly took me by surprise. Normally, I can see twists coming from a mile away, but I was under the impression that this was a straight forward, sweet romance. I'm very pleased I was proved wrong. I'm also pleased with the ending, even though I'm not a fan of this genre.
For a first book, I think this is a good starting point. I look forward to any more books Zoe puts out, which I'm surprised by, as I didn't expect to enjoy this.