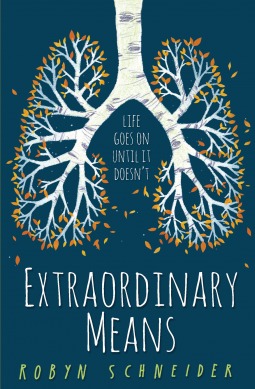 Extraordinary Means
Robyn Schneider
Genre(s):
Contemporary, Romance, Young adult
Published:
June 4th 2015
Pages:
336
Rating:
2.5 stars
"
When he's sent to Latham House, a boarding school for sick teens, Lane thinks his life may as well be over.
But when he meets Sadie and her friends - a group of eccentric troublemakers - he realises that maybe getting sick is just the beginning. That illness doesn't have to define you, and that falling in love is its own cure.
Extraordinary Means is a darkly funny story about true friendships, ill-fated love and the rare miracle of second chances.
"
'Perfect for fans of John Green' is plastered all over this novel and plenty of reviews for it. Whoever first said that was right, but they should have also said that Extraordinary Means is a watered down version of The Fault in Our Stars.
Dealing with tuberculosis rather than cancer and featuring less pretentious (but still just as unrealistic and irritating characters), Extraordinary Means follows a group of sick teens at Latham House, a holding pen for those with total drug resistant TB.
From the start, it's obvious Schneider drew inspiration from Green. Sick teenagers, a nerdy male main character, the Manic Pixie Dream Girl who causes trouble and inevitably falls in love with the main character. Give me a break, I beg of you. Throughout the book I couldn't help but compare it to The Fault in Our Stars, and while I enjoyed this a little more, I doubt that's what the author wanted. (But if it was then congratulations, you succeeded.) It wasn't an exact replica, but it was pretty damn close.
While I didn't like what there was in the way of plot, or care for the characters, I felt that Lane and Sadie did have very clear and distinct voices. The writing was decent and the changes in POV weren't confusing or jarring. It didn't take much time (or effort) to get through, and for that I'm grateful because it was just okay.
Nothing extraordinary, by any means.