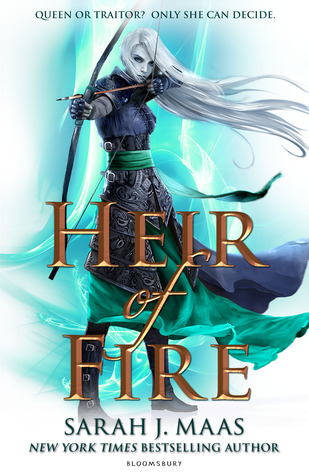 Heir of Fire
Sarah J.Maas
Genre(s):
Fantasy, Supernatural, Young adult
Published:
September 11th 2014
Pages:
562
Rating:
4.5 stars
"Consumed by guilt and rage, Celaena can't bring herself to spill blood for the King of Adarlan. She must fight back...
The Immortal Queen will help her destroy the king - for a price. But as Celaena battles with her darkest memories and her heart breaks for a love that could never last, can she fulfil the bargain and head the almighty court of Terrasen? And who will stand with her?
"
I'll admit, I was nervous about Heir of Fire even before I picked it up. I'd heard loads of reviews raving and praising it, but then I'd also heard some that felt a bit let down by it. Considering how much I loved Crown of Midnight I was hesitant to start this for fear of it making me fall out of love with the series.
The very first chapter did confuse me a bit. Celaena's behaviour and the way she interacted with Rowan when she first met him did mean I had to read the scene several times over in order to fully appreciate it. Whether this was because I'd left quite a while between reading this and the previous book (I know, I know: I do this all the time and I need to stop) or whether it was because she was in a new place with new people, I don't know. However, things definitely started to pick up and peak my interest a few chapters later, with the introduction of Manon.
I enjoyed the introduction of new characters and settings, I felt that it really set the way for the second half of the series and made me really interested in what could happen. I also think that it really changed the tone of the series as a hole, making it sound more mature and more like epic fantasy. While the first two books were very fun and light, Heir of Fire was decidedly heavier and more serious.
That being said, it didn't hinder the enjoyment for me. Meeting Rowan and Manon and Aedion made me excited and further proved to me that Sarah J. Maas knows what she's doing. I found original characters more developed and found myself liking Celaena more now that she wasn't acting so spoilt.
The thing that I did have problems with, however, were how sometimes Maas' writing felt a bit choppy and disjointed and the scenes with Dorian and Choal. There were a few times where I had to re-read sentences or scenes because I couldn't make sense of where a character had gone, who had said what, or what was going on. Despite that, I did enjoy the writing style overall. I also found Dorian and Chaol's friendship to be more strained - which was understandable, but I really enjoyed that in the first two books, so in this I didn't really like how they seemed separate. Their scenes were also boring compared to Manon and Celaena's. Chaol's I understood as they gave information and more political plot, but Dorian's I found to be more filler material.
Nevertheless, I did really enjoy Heir of Fire, and it was only those little picky things that pulled my rating own from a full five stars.