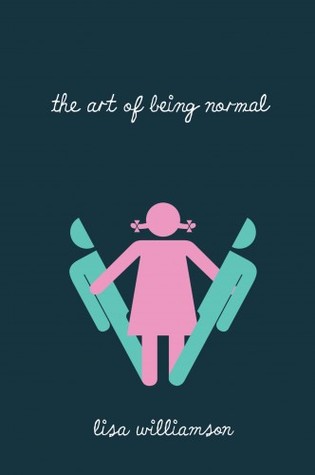 The Art of Being Normal
Lisa Williamson
Genre(s):
Contemporary, LGBT, Young Adult
Published:
January 1st 2015
Pages:
368
Rating:
3.5
stars
"Two boys. Two secrets.
David Piper has always been an outsider. His parents think he's gay. The school bully thinks he's a freak. Only his two best friends know the real truth – David wants to be a girl.
On the first day at his new school Leo Denton has one goal – to be invisible. Attracting the attention of the most beautiful girl in year eleven is definitely not part of that plan.
When Leo stands up for David in a fight, an unlikely friendship forms. But things are about to get messy. Because at Eden Park School secrets have a funny habit of not staying secret for long…
"
The Art of Being Normal fooled me when I first saw it in Waterstones. For some reason - and I still don't know why - I thought it was non-fiction, kind of like a memoir or autobiography. I left it on the shelf and, when I remembered the title, looked it up online to see what it was about.
The idea interested me; I'm all about diverse young adult literature and tackling 'taboo' and 'sensitive' subjects that many think are too 'serious' for teens, so this looked to be just my cup of tea. I felt the taboo nature come through, in how main character David struggled to tell his parents that he wanted to be a girl, even though they'd told him they support him. As someone who suffers from anxiety, I felt the anxiety coming from him, and felt bad that he felt the need to hide the things that made him comfortable.
I'll admit, I'm not the most knowledgeable on the whole transgender/sexual part of things, and this book may have been a totally awful portrayal of the struggles and activities as those identifying that way. For me though, I find it quite insightful. I can't imagine the feeling of wanting to change my gender, or feeling wrong in my own body, so in a way this did open my eyes. That's always a good thing, I think. I enjoy taking new things away from the books that I read, and The Art of Being Normal certainly did that.
While I wasn't completely taken in by the plot - I felt like honestly there wasn't much of one - I was intrigued by the characters. I feel like this is a much more character driven novel anyway, so it didn't hamper my enjoyment too much. David and Leo I found to be very different, and very refreshing because of that. Their personalities almost came across as total opposites, and I liked that. It shows that, even if someone is going through the same thing as you and can relate, each case is highly individual and cannot easily be generalised. To me, this is an important message to send, as too often are people lumped together when experiencing similar things. Yes, person A has the same problem as person B. Just because A can do something that sends B into a panic attack, does not make their problem any less of what it is: a problem. But I digress.
Williamson has managed to piece together a good debut. I'd recommend it if you enjoy heavier reads that still manage to come across as light.