Top 5 Wednesday is a weekly topic created by gingerreadslainey over on Youtube. There's a Goodreads group here, where you can sign up and take part each week.
When I saw this week's topic I frantically opened up a new blog post to start drafting it because I knew it would take me a while. I love books about mental health and psychology. An odd thing to say, I know, but it's something that's close to my heart (or rather, my brain) and I love finding accurate portrayals in fiction. Needless to say, it was tricky to narrow it down to five.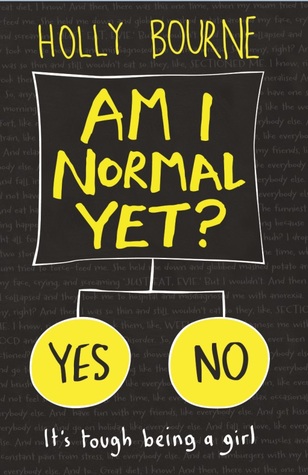 Am I Normal Yet? by Holly Bourne
This is the most recent book I've read about mental health and it's also the one that I've connected with best. The main character, Evie, has Obsessive Compulsive Disorder and Generalised Anxiety Disorder, and being a GAD sufferer myself it didn't take me long at all to start seeing comparisons and little bits of myself in the story. I felt that everything was extremely well researched and portrayed in a realistic and believable way. I have a full review of it coming soon, so look out for more of my thoughts then.
Again, I read this more recently than the rest, and I instantly loved it. It's more of a psychological thriller than a straight up book about mental illness, but I loved the mystery that surrounded the main character, Kaitlyn. The fact that no one was really sure whether she was suffering from Dissociative Identity Disorder (which I've never come across in fiction before) or just a hallucination made things that much better for me. I'm not a massive fan of unreliable narrators as I they confuse me to much, but the way this was told as a case file was much easier to follow.
The Bell Jar by Sylvia Play
I don't think you can have a list of favourite books about mental health without The Bell Jar making an appearance. This was one of the first books on mental health I ever read, and because of that I think it's more than time for a re-read. From what I can remember, Plath's semi-autobiographical story was an accurate representation of the care - or lack thereof - provided for mental health at the time. It was quite eye opening, and whilst not exactly a riveting or fun read, it was definitely interesting.
Mother, Mother by Koren Zalickas
This little gem found me at King's Cross station in London, and boy am I glad it did. While primarily a psychological thriller, mental illness plays a big part. The titular character of the mother has Munchausen by proxy and has convinced herself and her son that he's autistic and epileptic. Alcoholism, eating disorders, and suicide also make the rounds throughout this book. It turned out to be one of the darkest yet most intriguing young adult books I've ever read, and I would highly recommend it to everyone.
The Shock of the Fall by Nathan Filer
There is a reason this won the Costa Book of the Year award and it's because this book is incredible in such an eye opening way. It deals with mental health in such a subtle yet poignant and beautifully crafted way. The way Matt speaks about his experiences gets to you whether you've experienced mental health - and schizophrenia, no less - or not. And it's not just a book about mental health; it's about family and loss and dealing with all the repercussions of that. It also stayed with me for the fact that it, like Mother, Mother, touches upon Munchausen by proxy, something that fascinates me but isn't a popular topic in fiction. Everyone with an interest in psychology or books about mental illness should pick this up.