I'm treating this as more of a 'which diverse books do I want to read?' tag, as upon closer inspection of my shelves, I haven't actually read a lot of diverse fiction. Hopefully this tag will encourage you to pick up a book that might otherwise overlook, so I'm tagging everyone who reads this and wants to take part.
Credit the original creator, Read Diverse Books.
The Diverse Books Tag is a bit like a scavenger hunt. I will task you to find a book that fits a specific criteria and you will have to show us a book you have read or want to read.
If you can't think of a book that fits the specific category, then I encourage you to go look for one. A quick Google search will provide you with many books that will fit the bill. (Also, Goodreads lists are your friends.) Find one you are genuinely interested in reading and move on to the next category.
Everyone can do this tag, even people who don't own or haven't read any books that fit the descriptions below. So there's no excuse! The purpose of the tag is to promote the kinds of books that may not get a lot of attention in the book blogging community.
A book starring a lesbian character
Affinity
by Sarah Waters
"
Set in and around the women''s prison at Milbank in the 1870s, Affinity is an eerie and utterly compelling ghost story, a complex and intriguing literary mystery and a poignant love story with an unexpected twist in the tale.
Following the death of her father, Margaret Prior has decided to pursue some 'good work' with the lady criminals of one of London's most notorious gaols. Surrounded by prisoners, murderers and common thieves, Margaret feels herself drawn to one of the prisons more unlikely inmates – the imprisoned spiritualist – Selina Dawes. Sympathetic to the plight of this innocent-seeming girl, Margaret sees herself dispensing guidance and perhaps friendship on her visits, little expecting to find herself dabbling in a twilight world of seances, shadows, unruly spirits and unseemly passions.
"
A book with a muslim protagonist
And I Darken
by Kiersten White
"
No one expects a princess to be brutal. And Lada Dragwyla likes it that way.
Ever since she and her brother were abandoned by their father to be raised in the Ottoman sultan's courts, Lada has known that ruthlessness is the key to survival. For the lineage that makes her and her brother special also makes them targets.
Lada hones her skills as a warrior as she nurtures plans to wreak revenge on the empire that holds her captive. Then she and Radu meet the sultan's son, Mehmed, and everything changes. Now Mehmed unwittingly stands between Lada and Radu as they transform from siblings to rivals, and the ties of love and loyalty that bind them together are stretched to breaking point.
"
A book set in Latin America
The Sound of Butterflies
by Rachael King
"
It is 1903. Thomas Edgar, a passionate collector of butterflies, is offered the chance of a lifetime: to travel to the Amazon as part of a scientific expedition. Hoping to find the mythical butterfly that will make his name and immortalise that of his wife, Sophie—for if he finds it, he will call it the "Papilio Sophia"—he eagerly accepts the invitation, and embarks on a journey that will take him to a whole new world.
On his return, Sophie greets her husband at the railway station, and is appalled by the change in him: he is thin, obviously sick, and apparently so traumatised by what he witnessed while he was away, he has been rendered mute. As Thomas struggles to find the words to describe what he's seen, it's unclear whether or not Sophie—and their marriage—will be able to withstand what he has to tell her, for the story that unfolds, the story behind Thomas's silence, is one of great brutality. Like the butterflies Thomas is so obsessed by, the butterflies that he catches and kills, it's a story of men who have been dazzled by surface splendour and wealth, and consequently refuse to acknowledge its underlying cruelty. But when that cruelty ends in murder, the question for Thomas—and Sophie—is whether or not he should be the one to speak out.
"
A book about a person with a disability
Girl, Stolen
by April Henry
"
Sixteen-year-old Cheyenne Wilder is sleeping in the back of the car while her stepmom fills a prescription for antibiotics. Before Cheyenne realizes what's happening, the car is being stolen.
Griffin hadn't meant to kidnap Cheyenne and once he finds out that not only does she have pneumonia, but that she's blind, he really doesn't know what to do. When his dad finds out that Cheyenne's father is the president of a powerful corporation, everything changes--now there's a reason to keep her.
How will Cheyenne survive this nightmare?
"
A science-fiction or fantasy book with a POC protagonist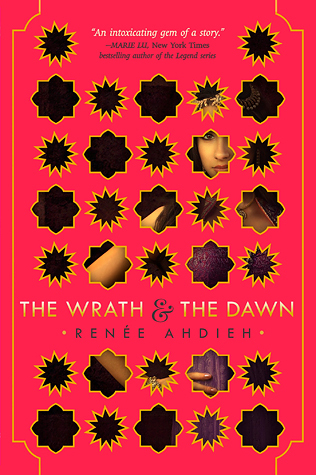 The Wrath and the Dawn
by Renee Ahdieh
"
In a land ruled by a murderous boy-king, each dawn brings heartache to a new family. Khalid, the eighteen-year-old Caliph of Khorasan, is a monster. Each night he takes a new bride only to have a silk cord wrapped around her throat come morning. When sixteen-year-old Shahrzad's dearest friend falls victim to Khalid, Shahrzad vows vengeance and volunteers to be his next bride. Shahrzad is determined not only to stay alive, but to end the caliph's reign of terror once and for all.
Night after night, Shahrzad beguiles Khalid, weaving stories that enchant, ensuring her survival, though she knows each dawn could be her last. But something she never expected begins to happen: Khalid is nothing like what she'd imagined him to be. This monster is a boy with a tormented heart. Incredibly, Shahrzad finds herself falling in love. How is this possible? It's an unforgivable betrayal. Still, Shahrzad has come to understand all is not as it seems in this palace of marble and stone. She resolves to uncover whatever secrets lurk and, despite her love, be ready to take Khalid's life as retribution for the many lives he's stolen. Can their love survive this world of stories and secrets?
"
A book set in (or about) any country in Africa
Lagoon
by Nnedi Okorafor
"
When a massive object crashes into the ocean off the coast of Lagos, Nigeria's most populous and legendary city, three people wandering along Bar Beach (Adaora, the marine biologist- Anthony, the rapper famous throughout Africa- Agu, the troubled soldier) find themselves running a race against time to save the country they love and the world itself… from itself.
Told from multiple points of view and crisscrossing narratives, combining everything from superhero comics to Nigerian mythology to tie together a story about a city consuming itself.
"
A book written by an Indigenous or Native author
The Last Final Girl
by Stephen Graham Jones
"
Life in a slasher film is easy. You just have to know when to die.
Aerial View: A suburban town in Texas. Everyone's got an automatic garage door opener. All the kids jump off a perilous cliff into a shallow river as a rite of passage. The sheriff is a local celebrity. You know this town. You're from this town.
Zoom In: Homecoming princess, Lindsay. She's just barely escaped death at the hands of a brutal, sadistic murderer in a Michael Jackson mask. Up on the cliff, she was rescued by a horse and bravely defeated the killer, alone, bra-less. Her story is already a legend. She's this town's heroic final girl, their virgin angel.
Monster Vision: Halloween masks floating down that same river the kids jump into. But just as one slaughter is not enough for Billie Jean, our masked killer, one victory is not enough for Lindsay. Her high school is full of final girls, and she's not the only one who knows the rules of the game.
When Lindsay chooses a host of virgins, misfits, and former final girls to replace the slaughtered members of her original homecoming court, it's not just a fight for survival-it's a fight to become The Last Final Girl.
"
A book set in South Asia (Afghanistan, India, Pakistan, Sri Lanka, etc.)
The Devourer
s by Indra Das
"
On a cool evening in Kolkata, India, beneath a full moon, as the whirling rhythms of traveling musicians fill the night, college professor Alok encounters a mysterious stranger with a bizarre confession and an extraordinary story. Tantalized by the man's unfinished tale, Alok will do anything to hear its completion. So Alok agrees, at the stranger's behest, to transcribe a collection of battered notebooks, weathered parchments, and once-living skins.
From these documents spills the chronicle of a race of people at once more than human yet kin to beasts, ruled by instincts and desires blood-deep and ages-old. The tale features a rough wanderer in seventeenth-century Mughal India who finds himself irrevocably drawn to a defiant woman—and destined to be torn asunder by two clashing worlds. With every passing chapter of beauty and brutality, Alok's interest in the stranger grows and evolves into something darker and more urgent.
"
A book with a biracial protagonist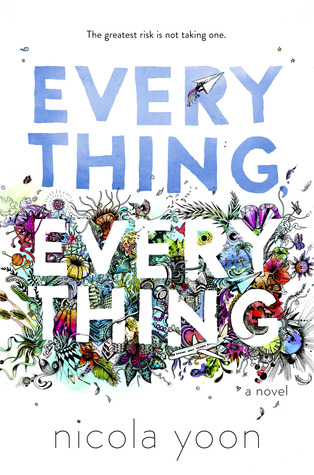 Everything, Everything
by Nicola Yoon
"
My disease is as rare as it is famous. Basically, I'm allergic to the world. I don't leave my house, have not left my house in seventeen years. The only people I ever see are my mom and my nurse, Carla.
But then one day, a moving truck arrives next door. I look out my window, and I see him. He's tall, lean and wearing all black—black T-shirt, black jeans, black sneakers, and a black knit cap that covers his hair completely. He catches me looking and stares at me. I stare right back. His name is Olly.
Maybe we can't predict the future, but we can predict some things. For example, I am certainly going to fall in love with Olly. It's almost certainly going to be a disaster.
"
A book starring a transgender character or about transgender issues
If I Was Your Girl
by Meredith Russo
"
Amanda Hardy is the new girl in school in Lambertville, Tennessee. Like any other girl, all she wants is to make friends and fit in. But Amanda is keeping a secret. There's a reason why she transferred schools for her senior year, and why she's determined not to get too close to anyone.
And then she meets Grant Everett. Grant is unlike anyone she's ever met—open, honest, kind—and Amanda can't help but start to let him into her life. As they spend more time together, she finds herself yearning to share with Grant everything about herself…including her past. But she's terrified that once she tells Grant the truth, he won't be able to see past it.
Because the secret that Amanda's been keeping? It's that she used to be Andrew.
"