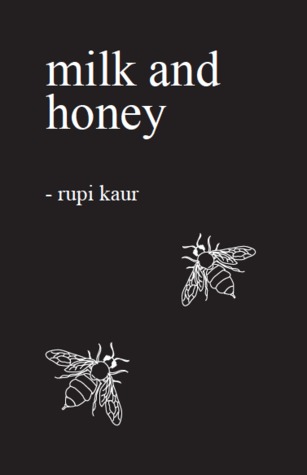 milk and honey
Rupi Kaur
Genre(s):
Feminism, Non-fiction, Poetry
Published:
November 24th 2014
Pages:
204
Rating:
3 stars
"
milk and honey is a collection of poetry and prose about survival. It is about the experience of violence, abuse, love, loss, and femininity. It is split into four chapters, and each chapter serves a different purpose, deals with a different pain, heals a different heartache. milk and honey takes readers through a journey of the most bitter moments in life and finds sweetness in them because there is sweetness everywhere if you are just willing to look.
"
A copy of this book was provided by the SocialBookCo in exchange for an honest review. This in no way has influenced by thoughts.
I've heard a lot of praise - but also a lot of criticism - for
milk and honey
and have been wanting to see what all the fuss is about for a while, despite it being a poetry collection and my aversion to anything that isn't prose. Thanks to the
SocialBookCo
, I got the chance to finally form my own opinion on this book that seems to have divided bookworms.
It's no secret that I find books with darker, taboo themes the most compelling, and milk and honey doesn't fail to deliver on this front. The main focuses of it are violence and abuse, but there's also a smattering of hope, survival, and feminism. Overall, a good mix with a nice sense of resolution and growth, and Kaur manages to convey so much emotion and provoke so many thoughts using such simple language and short poems. I liked the lack of flowery language - the simplicity was very stark and often harrowing, really getting the point across and making you see the reality of the situation and that it wasn't perfect by any means, despite all efforts to make it seem that way.
My favourite of the four parts was the first,
the hurting.
It set the tone very nicely and you immediately got a sense of what Kaur had been through. It is one of the shorter sections of the book, which was a shame, as I found there were some real gems in it and a lot of the poems gave a good message.
The illustrations throughout the book were a surprise, but a very nice touch. While they weren't exactly to my artistic taste, I liked that they added an extra insight into Kaur's mind and made me feel a lot closer to her and what she dealt with. Even though they were only simple doodles, they really made an impact and enhanced what the words were telling us. There were a few that I found to be a bit vulgar, but seeing as how this deals heavily with sex and abuse, I thought they were fitting, if a little uncomfortable to look at.
While I did enjoy this, I couldn't help but want
more
. An odd thing for a poetry hater to say, but I enjoyed the style and flew through the entire book extremely quickly. While I did appreciate the shortness of the poems, I did feel like one line was a bit
too
short and wished some had been that little bit longer, as many of the pages only had a few lines of text which felt a bit... lacking. Nevertheless, a nice little collection. Maybe
not
up to all the hype, but enjoyable all the same.
The SocialBookCo is a book comparison website. They compare the prices of ebooks, audiobooks, textbooks, and everything in between so that you don't have to. Thanks to their book review programme, I was able to read and review this book, and even earn a small commission from any sales made through this link.