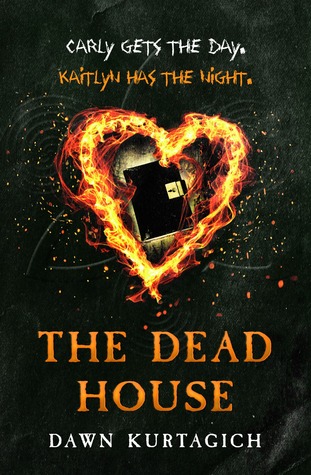 The Dead House
Dawn Kurtagich
Genre(s):
Horror, Paranormal, Young Adult
Published:
August 6th 2015
Pages:
440
Rating:
4 stars
"
Twenty-five years ago, Elmbridge High burned down. Three people were killed and one pupil, Carly Johnson, disappeared. Now a diary has been found in the ruins of the school. The diary belongs to Kaitlyn Johnson, Carly's identical twin sister. But Carly didn't have a twin . . .
Re-opened police records, psychiatric reports, transcripts of video footage and fragments of diary reveal a web of deceit and intrigue, violence and murder, raising a whole lot more questions than it answers.
Who was Kaitlyn and why did she only appear at night? Did she really exist or was she a figment of a disturbed mind? What were the illicit rituals taking place at the school? And just what did happen at Elmbridge in the events leading up to 'the Johnson Incident'?

"
This was a re-read with Ashleigh from A Frolic Through Fiction, Molly from Molly's Book Nook, and Aimee from Lovely Book Loves
I've never read a book written in such a unique way as The Dead House. The story of Carly and Kaitlyn is told through diary entries, snippets of police reports, transcripts of therapy sessions, and just about anything else you can think of. It's a massive jumble of thoughts and emotions that leaves you confused and on the edge of your seat, but somehow it works.
From the very beginning, psychology and mental illness takes a big part in Carly's and Kaitlyn's lives. It's hinted at that Carly has an eating disorder (or poor eating habits, at least) and that Kaitlyn is the result of trauma and Dissociative Identity Disorder. While I am fond of this idea and the inclusion of mental health, it's never confirmed one way or another, and from my own research into disorders it seems unlikely. That only acts as a way of opening many, many more doors, however.
There's an element of religion, thanks to Carly's best friend, Naida, which makes you wonder if there are supernatural elements at play. So much of the book is shrouded in mystery that nothing is unlikely, and things only start to get creepier and more unnerving. I wish the Mala had been explained in more detail, or just substituted for spiritual practises that already exist, as it felt a little underdone and thrown in at the last minute. Nevertheless, I did still enjoy the creepy element the runes and charms and chants provided.
The best part of this book is also it's weakest point, and that's that it lets you come up with your own answers. My biggest problem with this, despite how fantastic the story telling is, is that there isn't a sense of resolution and finality with the ending. Yes, our time with the girls is over, but it doesn't feel as if we have all the answers. Things are left open to interpretation and are incredibly vague and ambiguous. Great, if you enjoy deciding what happens for yourself, but I wanted some definitive answers.
My personal theory, however, is that Kaitlyn is the 'true', unwell, self and Carly was a product of trauma and psychosis, and that Kaitlyn was vulnerable to the supernatural. Or maybe I'm completely wrong. Who knows?